Mark a milestone event or honor that special person with a personalized piece of Annieglass. Customization can be either engraved or silkscreened in 24k gold or platinum.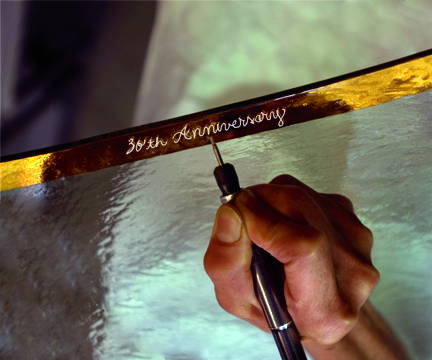 Offer your customer the opportunity to mark a milestone with a personalized custom engraving. 
Turnaround time is 2-3 weeks depending on the season and quantity needed. 
We can add handwritten messages (up to 60 characters for $25) on the underside of the piece, engraved along the rim. 
A design such as a corporate logo can be added to most items and silkscreen the design in 24kt gold & platinum. 
Minimum order quantity is 50 pieces per SKU, per choice of precious metals. We recommend the following items: hors d'oeuvre plates, appetizer trays, martini trays, & vanity trays. 
60–90-day turnaround time depends on the season and quantity needed.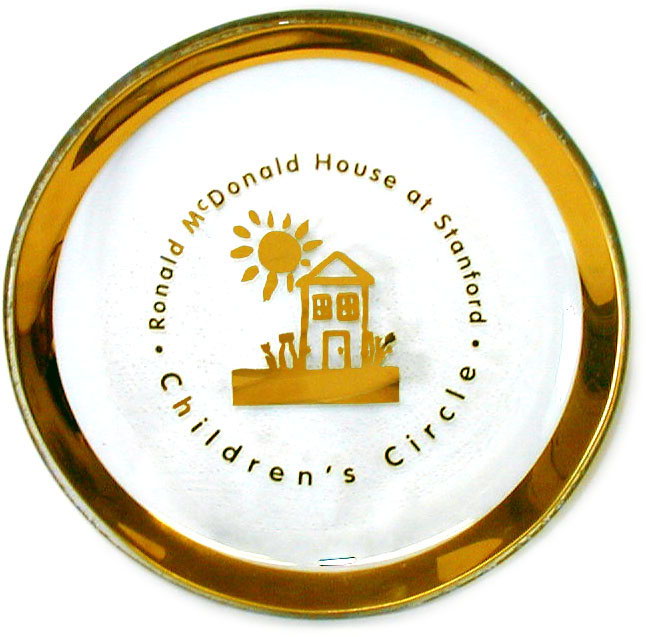 Requirements for Silk-Screening
Artwork Production/Design
Pricing includes one silk-screen in one colorway.  Gift packaging may be available for an additional charge of $8 per piece. 
Artwork/Logo
Camera-ready vector artwork must be submitted with the order. It is best if the vector artwork is  supplied as Encapsulated Postscript (EPS) but an Illustrator file will work too.
Terms & Conditions
A minimum order of 50 pieces in either gold or platinum, for silk-screened projects is required. $150 set up charge & $8-$12 surcharge per piece.  50% deposit due upon receipt of order, balance due upon completion. 
Production & Shipping
FOB Watsonville. Lead time is determined by project. All orders are  shipped via UPS ground service. Shipping is paid for by the buyer.  There will be additional charges for any drop shipments. 
If you have more questions or inquires about our corporate discount, please contact Suzanne LeDuke, VP of Sales at suzanne@annieglass.com or call our customer service at 800.347.6133.