Community involvement, green awareness and fair trade have finally become business concerns in recent years, but Annieglass has consistently practiced these philosophies since its foundation in 1983.
Annieglass began in Annie's guest room in 1981, but the increasing pressure every year to move the production offshore has been relentless. So has the pressure to make items in other media, but glass is what we are passionate about. It is what we as a group work on every day perfecting, experimenting and frequently failing at. It keeps us humble, just when we think we have a great idea that works we often find that we have pushed the envelope too far.
STAYING SMALL

American made product

GIVING BACK

Donates to 365 non-profits a year

SCHOLARSHIPS

Sponsors two yearly local scholarships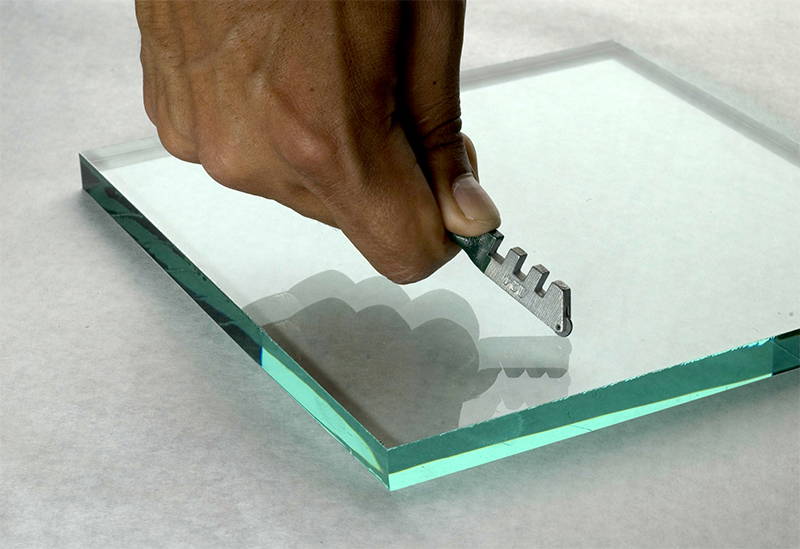 Invigorating an Ancient Craft
Glass beads were one of the earliest forms of money and a glassmaker's skill was very valuable. During the Arts and Crafts era that started in 1880 in Europe and North America and again in the 60's in the United States the value of handmade objects rose to new heights of appreciation. Annie received her training at a school that originated from that time. Close proximity to Silicon Valley and curiosity have led her to implement technological improvements to glassmaking with waterjet cutting equipment vastly improving the range of design possibilities.
The current studio near Monterey, California, was in an economic enterprise zone surrounded by agricultural land when Annie bought the building to house Annieglass in 1996. One fourth of the current staff hired then is still here having transitioned from field work into highly skilled artisans and glass makers. Watsonville was deeply affected by the flight of many large agricultural companies leaving the area at that time. Employee programs that teach English or pay for college tuition have improved skill level and helped their families. A second generation of staff family is being led by Annie's daughter Ava.
We have raised over $100,000 for children's cancer services (Jacob's Heart). Annie has helped to raise over a million dollars for Second Harvest Food Bank (Feed America) serving as co- chair for holiday food drives. By funding Digital Nest programs, local underserved youth have access to comprehensive technological training and career mentoring
Annieglass offers scholarships to employees pursuing higher education. We are proud of our employees who completed MBA and BSA degrees through this program and encourage the ongoing quest for knowledge we support in all our staff.
We offer two local high schools scholarships every year as well as two scholarships to the California College of the Arts, Annie's alma mater. Recipients are chosen by the schools based on ability to succeed and need. "I see no point in offering scholarships to "A" students. I want the "B" or "C" students, the ones who get overlooked when passing out scholarships, the ones with passion and the ability to take risks. I believe you have to fail a few times to get good at succeeding and light a fire of ambition" offers Annie, who also received scholarships and food stamps while pursuing her education.
"Giving away Annieglass for fundraising or donating money to worthwhile causes has been one of the best parts of running my own business. Offering others the opportunities I had is its own reward. Every day we donate to a charity for education, the arts or a charity that benefits children."
- Annie
Wildfire Benefit
We are proud to announce we raised over $7,000 from the sale of our Grove Plank Cheese Boards during Fall 2020 & Spring 2021. This money was donated to the Community Foundation to aid fire victims from Santa Cruz County.
Clean Oceans Project

Monterey Bay Aquarium

Girls Inc.

Juvenile Diabetes Foundation

Save our Shores

Sierra Club

Scouts of America

Planned Parenthood

Big Brother/ Big Sister

American Cancer Society

American Heart Association

Feed America

Toys for Tots

Cystic Fibrosis Association

Veterans of Foreign Wars
Hospice

Homeless Shelters

American Lung Society

Watermark

National Organization for Women

University of California

California College of the Arts

California State University

Girls Middle School

Public and private elementary, middle and high schools

Public and private child care, women's shelters and elderly facilities

Little League

Youth Now
Mariposa's Art

Police Athletic League

Fallen Officer Foundation

Fire, Search and Rescue

Little Guards

Loaves and Fishes

Farm Bureau

Chamber of Commerce

Elks Club

Rotary International

Soroptimist International

Dignity Health

Palo Alto Medical Foundation

Omega Nu and various sororities

And Many More!