Is Annieglass Dishwasher Safe?
Yes! As Annie loves to say, "Go ahead! Put it in the dishwasher!" Almost every* piece of Annieglass is dishwasher safe when used with a mild detergent, including our 24k-gold and genuine-platinum pieces. Annieglass takes its shape in a fiery kiln, draped over a ceramic mold at melting temperature which permanently fuses the precious metals into the glass, assuring a tarnish-free and chip-resistant product of the utmost quality that is (we promise!) dishwasher safe.
*The only exceptions to Annieglass' dishwasher safety promise are our pedestal cake stands, large Limited Editions pieces, Edgey with fused or glued pieces, glued pieces. All Annieglass pieces are labeled with a sticker that says "Dishwasher Safe or "Hand Wash Only" as an extra reminder. Annieglass is dishwasher safe when used with a mild detergent. Dry with a soft cloth to guard against hard water and mineral deposits.
Avoid any sort of polishing compound or abrasive cleaners for silver, gold or brass on precious metal rim.
Are the Annieglass pieces with the precious-metal rim food safe?
Absolutely! What's the fun of a plate if you can't use it, anyway? Annieglass is not meant to sit unused albeit admired, but celebrated and integrated into your life and meals. Our innovative kiln-slumping process actually fuses the precious metals into the glass, resulting in chip-resistant dinnerware and serving pieces that are 100% food safe, dishwasher safe…and yes, beautiful to admire.
Can Annieglass go in the oven or microwave?
No. Annieglass is not recommended for oven or microwave use, although it is dishwasher safe when used with a mild detergent.
What type of glass is Annieglass made from?
Annieglass is made from architectural window glass, ensuring its durability and chip-resistance. "My very first large order came from the Post Ranch in Big Sur, California for the Sierra Mar restaurant," recalls Annie. "I was petrified from the very beginning that the owner would call, wishing to return it. He did call about six months later. Not to return his glassware, but to tell me that I had made a terrible mistake. He was used to placing orders to replace chipped china and glassware from everybody but me. He assured me that until I made something more fragile, I wouldn't be getting replacement orders from any restaurants!"
What does "sustainably made" mean?
Having been involved in the first Earth Day as a teenager in 1970, environmental responsibility has always been important to Annie. A novel compilation of thoughtful sustainability measures are taken throughout the handcrafted glassmaking process at Annieglass. The Annieglass warehouse uses an abundant amount of skylights and low-wattage energy-efficient lighting, and a special reflective roof keeps the space well insulated to avoid the need for air conditioning. The glass-cleaning machine circulates and reuses water and glass is cleaned with non-toxic vinegar. Creative kiln firing times ensure energy efficiency during the trademark "slumping" of glass. All scrap glass gets donated for reuse, and earth-friendly, biodegradable packing materials made of sorghum and potato starch deliver the final luxury product to customers.
The gold and platinum looks like it has split apart on my piece. Is this a defect?
No. During the kiln firing process, as the glass heats up, it stretches and slumps to take the shape of the handmade ceramic mold. Since gold and platinum are precious metals, they do not stretch like the glass and may pull apart, creating a crackled effect on the finished glassware. This is one of the reasons that each piece of Annieglass is unique, and speaks to Annie's belief in the Japanese philosophy of wabi-sabi—in which asymmetry and "imperfection" are viewed as beautiful. Once the glassware is removed from the kiln the precious metals are set and fused into the glass, meaning the metals will not peel off or continue to pull apart for the duration of the glassware's lifetime.
What does the personalized engraving on Annieglass look like?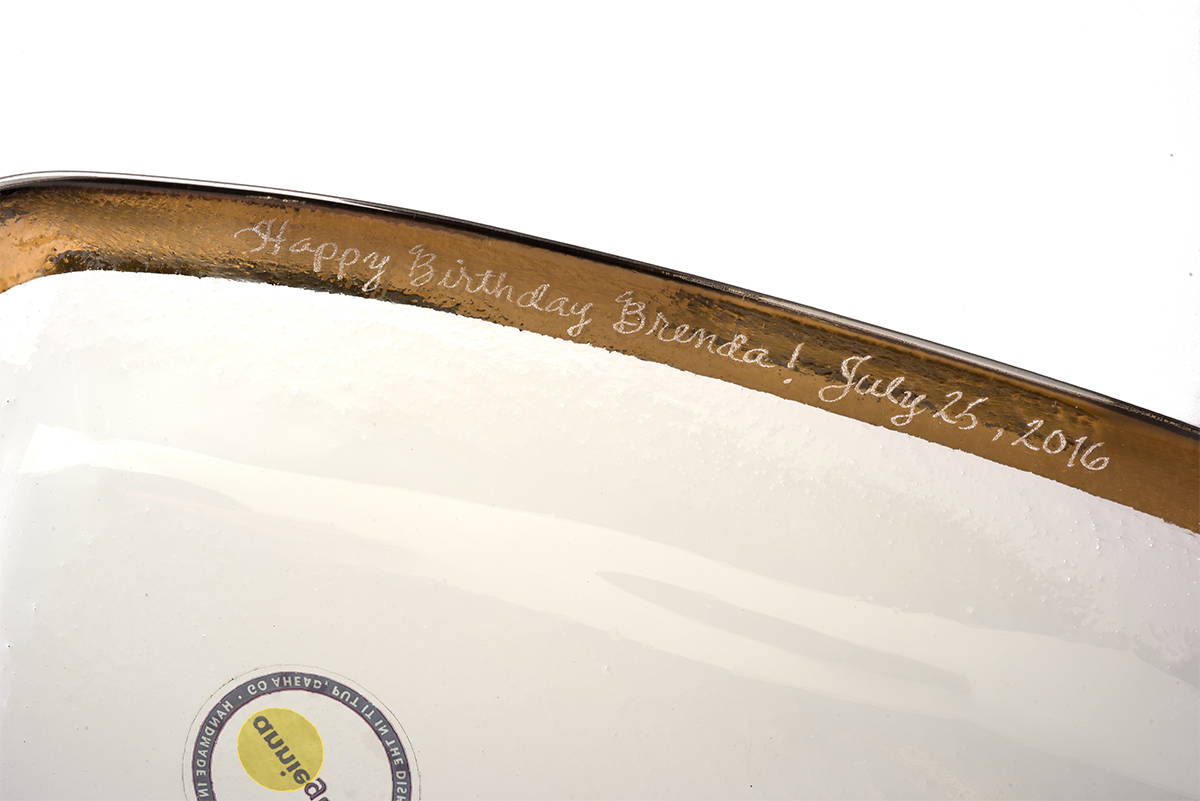 Our artisans will hand engrave a personalized message of your choosing, using a handheld etching tool so the finished result looks like printing by hand. We are proud of our engraver's skills, and the unique, individual touch they craft into each Annieglass piece.
Sample Engravings
Olivia and Josh September 5, 2022
Happy Mother's Day, Mom. Love Joshua
To Jim, our love will never fade. Love, Jane
Where will my message be engraved on the Annieglass piece?
We engrave on the back of each Annieglass piece.
How much does personalized engraving cost?
For $25 we will engrave up to 60 characters, including spaces and punctuation, of your choosing using a handheld etching tool so the finished result looks handwritten.
How do I add personalized engraving to an Annieglass piece?
You will have the option to add engraving to each Annieglass piece when you are selecting the item before you add it to your cart. Once you select the option to add engraving, a box will appear where you can type your message to be engraved. Our artisans will hand-engrave up to 60 characters (including spaces and punctuation) exactly as you write it, so please make sure spelling, punctuation, capitalization, numbers, etc. are submitted verbatim of how you would like the final engraving to appear on the Annieglass piece. Before checkout, you will be asked to verify that you approve the accuracy of your engraving submission. Once approved, you will continue to the checkout process.
Giftwrap Options & Placing an Order
What are My gift wrap options?
Gift Wrap is $8 per piece. Check the gift wrap option on the product page when you are adding to cart.
Each piece, with the exception of a few of our larger items, is available for gift wrapping. Giftwrap includes a wrap paper with a stripe pattern in our logo colors and Annieglass sticker finished with a tasteful green ribbon to enclose your item, which is nestled in a bed of white and green tissue. Tucked in the box with your purchase is an Annieglass care card which gives a brief description of how and where Annieglass was created, as well as how to care for the piece. We will also happily add an enclosure card with your personal message with each gift-wrapped item, free of charge.
None of our items ship with price tags or pricing information. In fact, as a courtesy, any item(s) selected for a gift box or with a gift message will not have prices displayed on the packing slip. We take great care in packing each item. Each gift box is carefully packed in a standard shipping box so it arrives in good condition. If no gift box is selected, items will still ship in a shipping box at no extra charge.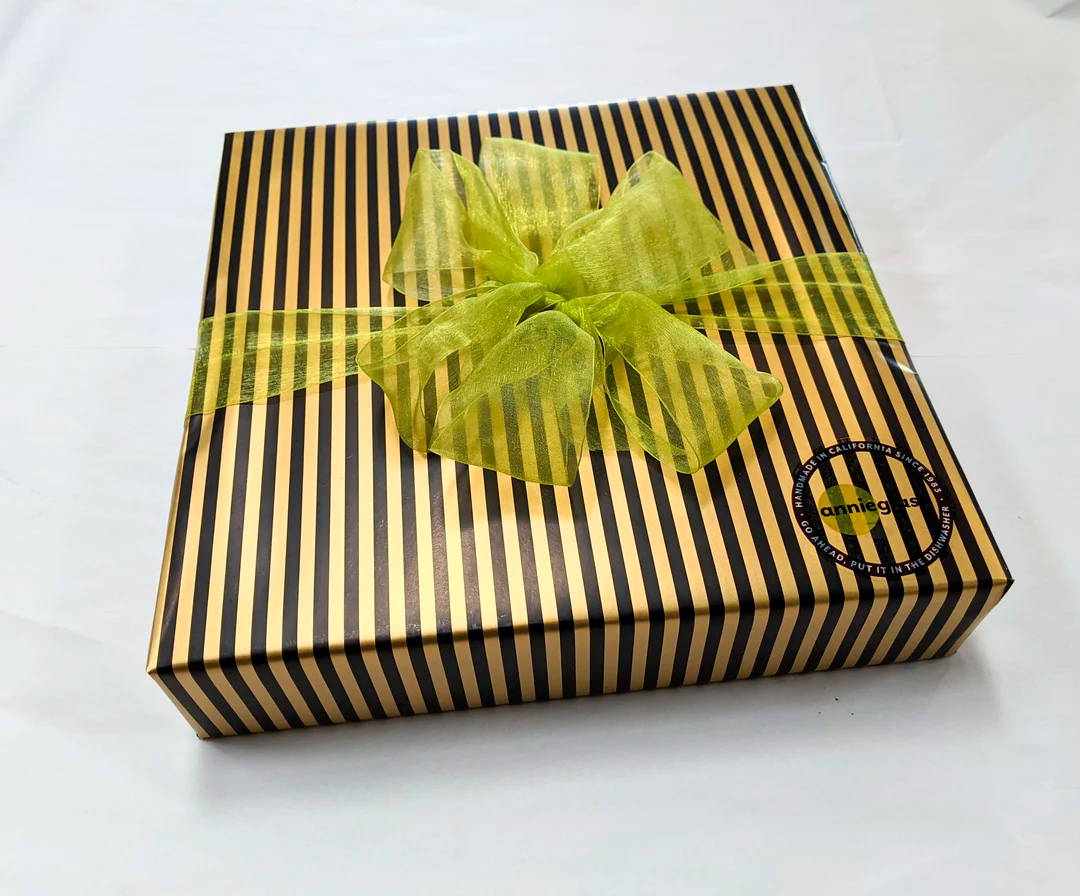 Where do I enter information for an enclosure NOTE?
You may enter text for a complimentary gift note on the cart page (before checkout). We will enclose a handwritten note of your text with the Annieglass purchase.
Can I place an order over the phone?
Yes, you can purchase all Annieglass pieces over the phone by calling Annieglass' customer service at (831) 761-2041 ext. 116 or toll free at (800) 347-6133. When placing an order over the phone, we ask that you have the product name or SKU ready, as well as your billing and shipping information. If you would like to add engraving, please be ready with your message that is no more than 60 characters (including spaces and punctuation) in length. Please note, we do not offer free shipping on orders over $200 when placed over the phone. If you would like to receive free shipping on orders over $200, please place your order online.
Can I place one order with multiple shipping addresses
No. Each shipping address needs to be on its own order.
Do you have a price match policy?
We do not have a price match policy. While we offer all of our independent retailers a suggested retail price—which we also use online at annieglass.com and at our company stores—we cannot guarantee or monitor what price they choose to assign each Annieglass piece. Should you find an Annieglass item priced lower at your local retailer, we encourage you to support your local business and make your Annieglass purchase with them.
If you still have questions after reviewing below, please contact our customer service.