Interview with a Glassblower by Annie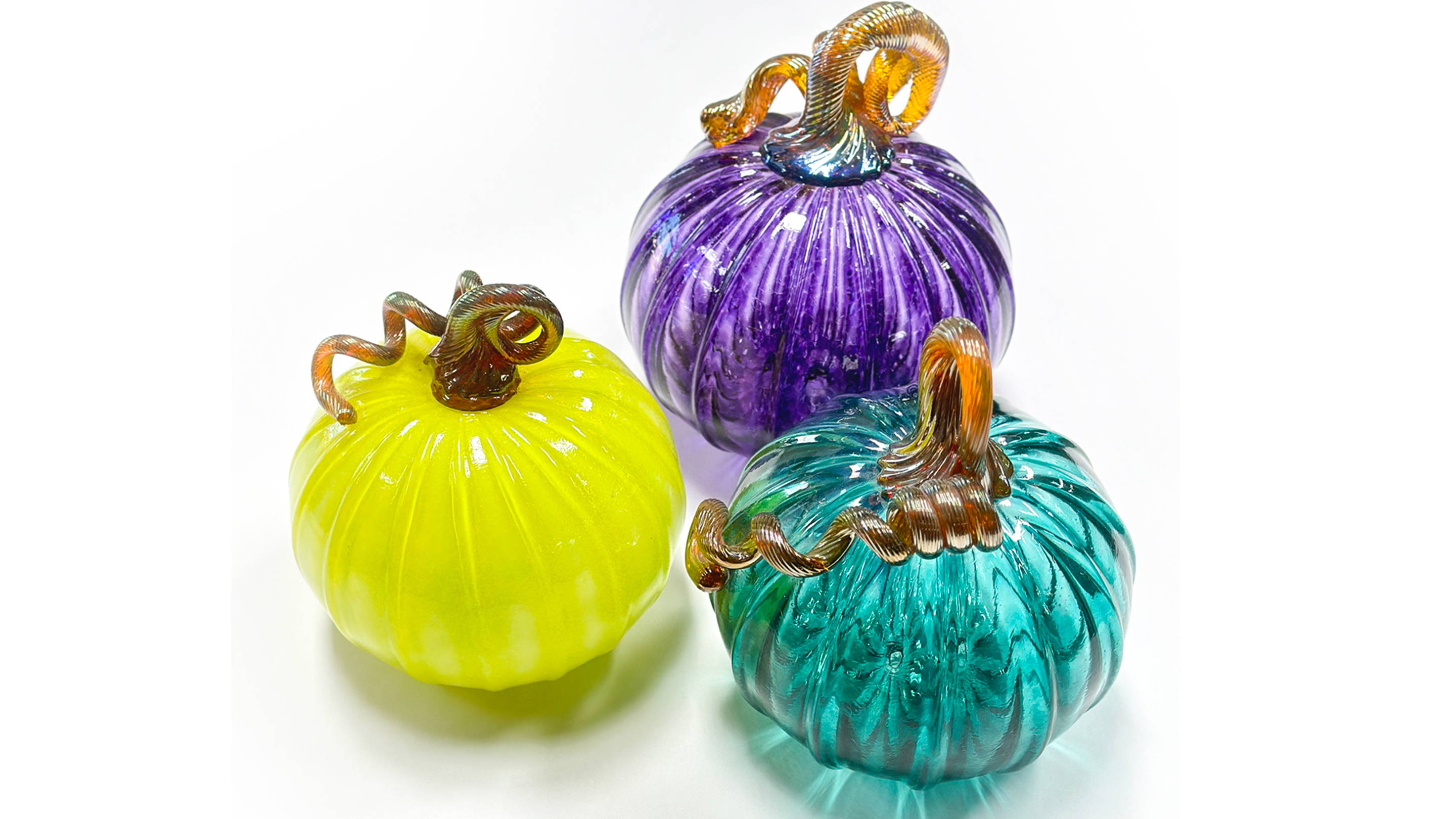 Matt Eaton became a master glassblower the hard way, by patiently putting in the many hours and years of hard work it takes to acquire the mastery of his medium, glass. His beautifully colored pumpkins were a big hit last year and we have asked him back again for another trunk show over Labor Day weekend on Saturday, September 2. Take the opportunity to meet him and shop his collection.
He credits his senior year high school project "to learn anything you wanted to learn" with pointing him in the right direction. He took a glass bead-making workshop in a technique called lamp-working. Over an open flame, he made colorful beads and learned to manipulate glass from a solid to a liquid and back again. "I got bit by the glass bug then," Matt says. Fascinated he took a job in his hometown of Auburn, Ca. helping to make blown glass ornaments and sweeping floors at Nicholson Blown Glass http://www.nicholsonblownglass.com/
 As he acquired more and more skills he became an apprentice to Rick Nicholson for 10 years, eventually pursuing a degree at San Jose State University. "I wanted to go there because it offered glass, ceramics, and a good foundry for metal." Upon graduation, he taught glassblowing and classes at BAGI, the Bay Area Glass Institute https://www.bagi.org/  in San Jose. Eventually moving over to Glassybaby to manage teams of glassblowers in Berkeley making colorful glass votives. 
I was introduced to Matt when our production manager Biagio Scarpello was leaving Annieglass after 7 years to pursue his own career and studio in Soquel. He is one of the most popular artists during Open Studios, giving demonstrations at his creekside outdoor studio. http://biagio-scarpello.com/
I am so grateful the introduction was made! Matt's knowledge and expertise has changed the face of Annieglass. He has replaced so much of our equipment, helped me with new designs, and impresses me daily with his problem-solving skills in so many different fields. He is an excellent communicator, which is so important when working with a group of people.
It is a pleasure to feature his delightful glass pumpkins. They really show off his skill. "The variety of colors available to me offers thousands of combinations. Each pumpkin's personality is in its stem. "Come and see for yourself. The twists and turns of the coiled stems do indeed give each one a personality and whimsy of its own.
Matt's pumpkins will be on display in our store now through Thanksgiving, but they won't last that long!
They will sell out; they are so popular.

To see more of his work - http://www.mte-art.com/fine-art
---