Engraving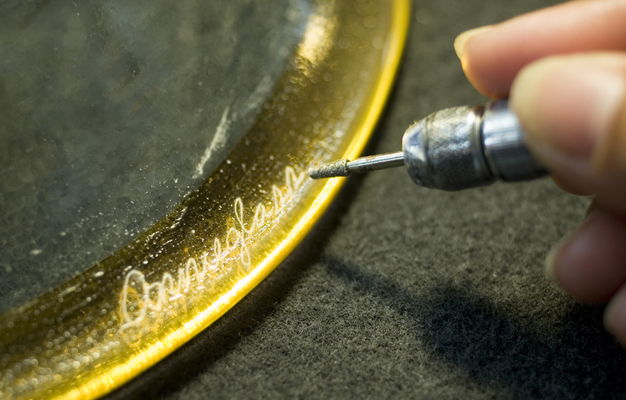 Each piece of Annieglass is hand engraved with a studio signature, ensuring its authenticity and individuality. The personal touch we craft into all of our glassware is yours to share, with personalized engraved messages available for each of your Annieglass pieces. Simply add engraving during your checkout, and for $25, we will engrave up to 60 characters of your choosing. Using a handheld etching tool, the finished result looks like printing by hand. We engrave on the back of the piece, with the exception of our Slab collection which is engraved on the edge. Make your gift of Annieglass a treasure to cherish for a lifetime with a personalized message.
Annieglass personalized engraving lets you give exactly what you want. Here are some occasions that call for a personalized gift, and engraving ideas to go along with them.
Wedding
Congratulations on your wedding
Olivia and Josh September 5th 2017
Best wishes for your new life together March 5, 2017
Best wishes on your wedding day March 5, 2017
Wishing you much love and laughter
Blessings on your marriage
Bridesmaids
Thank you for being in our wedding ~ Jane & Adam
To our bridesmaid, Susan, with love. Jane & Adam 08.12.17
Bridesmaids turn a wedding…into a wedding party!
Thank you for sharing our joy, Jane & Adam, August 12, 2017
Anniversary
I'd marry you all over again
Ten years of love and laughter
Wishing you many more years of happiness together
Happy Anniversary Bob & Mary June 14, 1986 – June 14, 2017
Happiness together always
Twenty years of happiness  
Birthday
Happy Birthday, Mary October 12, 2017
Twenty-nine forever
Birthday Wishes 2017
Baby
Little bundle of joy
Baby's first birthday 2017
Baby's first Christmas 2017
Olivia Joan Sanders born June 12, 2017
Mother's Day
Happy Mother's Day, Mom. Love from Joshua, Brittany, and Lisa
Happy First Mother's Day
To the Best Mom in the World
I Love You, Mommy
To the Sweetest Sister on Mother's Day
Thank you for our beautiful children – Happy Mother's Day
Christmas
Christmas Love 2016
Merry Christmas
Christmas 2016 from The Smiths
For Sally, Love Santa
Christmas Blessings
Hanukkah
Love at Hanukkah
Happy Hanukkah
Love/Valentine's Day
Will you marry me?
Be my Valentine
To my sweetheart, love Bob
Jill, you complete me, love Jack
You make me whole
You have the biggest heart in the world
To Jim, our love will never fade. Love, Jane
Love and laughter always
You mean the world to me
All Occasion
Happiness in your new home
Blessed Home
Blessings on your home
Love, Health, and Happiness
Friends forever
Humorous
This is the last thing I'll ever buy.
I earned this.
I don't need it; I just want it.